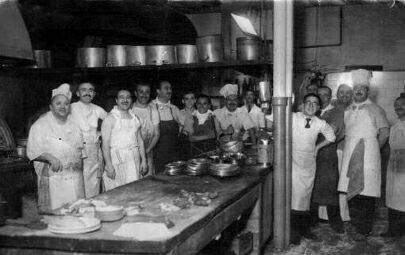 Kitchen of restaurant Perosio
In the 40´s a famous restaurant of called Italian food worked PEROSIO. It begins their activity in the street Federico Lacroze 2720, the success is that they decide to move to full center of the city, first in the street Caravels and later in continuous expansion to the street Suipacha, almost North Diagonal corner.
Visited by employees of the area that went hasty to delight in the lunch with their memorable delights.
Their you celebrate vermichelis, milanesas or pucheros and the careful attention, they converted it instead of writers, encounter, professionals, doctors and celebrities of the time..
The famous writer of the Argentinean literature Adolfo Bioy Casares, mentions it in his "Dictionary of the exquisite Argentinean".